One Sunday morning I was stopped in my tracks when I saw a friend wearing the most delightful scarf! It was lightweight and contained shades of spring blossoms, so soft that it looked like it would melt in my fingers if I touched it. The delicate silkiness was exquisite! I exclaimed, "Where did you get this"! And of course her response was unsatisfactory... she had bought it at a local craft show, but didn't know who made it. Ugh!
At this point I did what I think many of you would do... asked to see it up close. This works best when the person is a good friend and knows your (or my) quirkiness and was willing to undress so I could examine the scarf in more detail. Well now there was no doubt that I would have to make "The Scarf".
Being a collector of beautiful yarns and ribbons, I began sorting through the softest, prettiest, and most unique materials I could find. A trip to my favorite yarn shop soon followed and I came away with a riot of additional colorful yarns and ribbons.
These are a few of the results...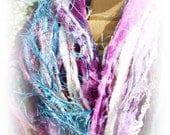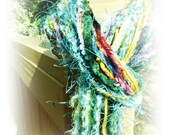 The scarves are so lightweight--almost like wearing a necklace. Each is full of the colors of everything in bloom. And so very, very soft and velvety! Made to be warn with many outfits and combinations to take on a different look each time when placed with different colors. I plan to use mine when the chilly air conditioning is blowing down my neck this summer!
My secret ingredient!
To be a bit different though, in addition to lightweight, multi-colored, and multi-textured yarns and ribbons, in several pieces I've also included a secret ingredient.... a few strands of recycled sari.
The sari silk is hand cut by women in India who recycle their beautiful saris (the traditional clothing of Indian women) by cutting them into strips. My purchase of their product gives them an opportunity to enhance their lives.
Like any dedicated crafter, when you have this much yarn and ribbon and sari, you can't make just one! So, what to do with many Spring Scarves......
This has been a long, cold winter for many of my friends in the north so I thought I would give a Springtime Scarf away to celebrate the arrival and beauty of spring!

This is the scarf I've chosen!

To enter, just leave a comment on this post. For an extra chance to win, share this post on your blog and leave a second comment letting me know you have :-)
A winner will be announced HERE on
May 10
, just in time for Mother's Day. Please be sure I can contact you if you are the winner.
Congratulations to Seawashed Kerrie, the winner of this giveaway!
If you're not the lucky winner you can find more Springtime Scarves listed in my Etsy Shop,
I love win-win projects. I have fun creating beautiful things while helping support worthy causes. It doesn't get much better than this. Happy Spring!
Until next time ~
Terri